Interactive Experience for your planetarium
To take advantage of the full potential of your planetarium, we offer integrated and customized interactive solutions that make it possible to interact with the planetarium audience using an active and engaging approach.
Interactive Voting System
Thanks to a push-button panel developed by our expert technicians installed in the right armrest of each seat, it is possible to manage votes, answers, or choices submitted by the audience.
You can also analyze, store, and qualify the results collected by the Digistar control panel in real-time. The results can be displayed either on the dome or operator interface as percentages, tabulated data, or with different types of graphs. It is also possible to show a map of the seats with the results in different colors.
All data collected can be saved in a log file with a corresponding operator ID, date, show title, etc. and used for further analysis of audience responses. There are three different options available:
Membrane push-button panel
Provides for higher grade of resistance. Non-mechanical technology, the surface is coated with a 0.2 mm of embossed scratchproof polyester film. Five backlit buttons with different colors. Waterproof and easy to clean.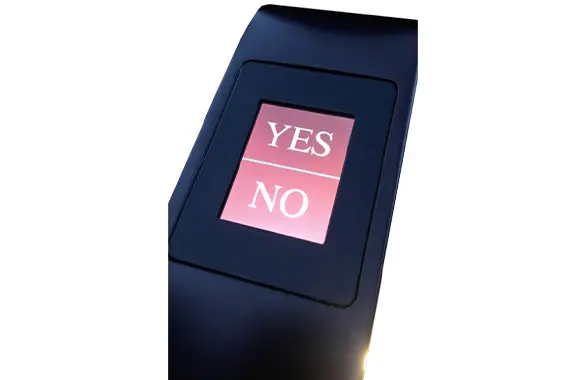 Touchscreen push-button panel
2.6" screen with a capacitive touch panel and dimmable backlight. Glossy glass surface with customizable display allowing for your choice of graphic (like a company logo).
Accessibility Audio Package/ALS
Transmitter plus personal ALS radio frequency receivers with personal induction loop necklace to transmit the movie narration or custumized experiences.
Closed Caption Glasses and Closed Caption Receiver
Used in movie theater auditoriums and planetariums and planetariums. They receive captions in different languages.
The manual console is a physical device with 15 led buttons (the buttons icon can be customized with a normal jpeg image), 2 knobs and 2 buttons to change pages.
Each virtual page can have up to 15 customized buttons both by function and by image. For example, you can launch shows, scripts, adjust the volume, turn the lights on or off and much more.
The console is connected to the computer via USB cable and does not require power.